Systems
Installing the right material for any
solar power installation is vital
to achieve the most efficient outcome.
A grid connected solar power system comprises three main groups of components – the solar panel array, the inverter and the installation hardware.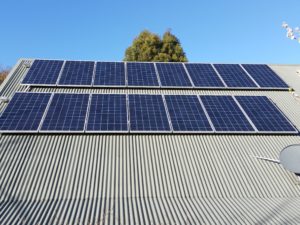 Panels
There are many different levels of panels on the market. We will only use premium panels so as to ensure greater outputs with greater reliability ensuring greater returns on your investment.
There are many very good premium panels available which we have access to including Canadian Solar, SunPower, LG and SolarWorld to name a few.  Sometimes for either financial or availability aspects we use an alternative make of panel. If this is the case, then you can be assured that the panels chosen will only be a premium product.
The origin of manufacture is not so much of an issue as the quality control in place of manufacture, as shown by independent German tests. Some of the best panels available are manufactured in Indonesia and China.
Points to note when using premium panels:
Some of the characteristics leading to greater output:
3 – 5% positive output tolerance,
ARC glass for an extra 2% energy gain,
Cell and Module matching to give a further 2% power gain,
Independently tested as amongst the best power output worldwide
Improved performance in the heat of the Australian summer
Characteristics leading to longer life:
True 25 year linear warranty,
10 year workmanship warranty,
superior degradation resistance,
Accredited salt mist resistance,
High quality junction box on each panel
Inverters
String Inverters
The inverter converts the DC power generated by the Solar Panels into AC power that is suitable be used within the home or any excess to be fed into the grid. Again, we have access to a large variety of inverters and which are offered to suit individual situations.
These inverters are very compact without compromising on their robust quality to withstand harsh environmental conditions. Most inverters come with a 5 Year Warranty, however, most offer a 5-year extended warranty.
Micro Inverters
Replacing the wall-mounted string inverter are individual inverters for each panel. These give even higher daily outputs than the excellent string inverters as they are able to monitor every individual panel. With these inverters we would expect an extra 5 – 15% output over the conventional format wall-mounted inverters. This is possible as the output from each individual panel is maximised.
Advantages with micro inverters include:
Greater system output due to individual tracking of each panel,
Monitors the performance of each and every panel,
Shows up any degradation in performance quickly,
25 year warrantee with most micro inverters,
Requires reliable internet connection for monitoring.
To name a couple of high quality micro inverters: Enphase Micro Inverters and APS.
Hybrid Inverters
Hybrid, in short, is a grid-connect system that has its own power storage and uses this power when the panels are not producing and is ideal for situations where no one is home all day and power is used at night.
There is so much more equipment available nowadays for hybrid installations, particularly with the storage of electricity (batteries) that are more powerful, longer lasting and more cost effective. Hybrid inverters are programmable to suit just about any situation.
Balance of System
Our Railing System is genuine Radiant solar panel installation rail and is fully engineered for both CGI (Corrugated Iron), Trim Dek, Clip Lock (varies profiles) and Tiled Roofs. By using genuine solar railing adequate airflow between the roof and the underside of the panels is ensured. This assists temperature control of the panels and their efficiency.  The Radiant Railing System is engineered to be installed on just about every single roof (unlike many other railing systems).
Maximum care is taken to ensure all penetrations into the roof space are sealed with attention to the life span of the system.
Service gaps between panels and panel arrays are allowed to maintain the system during servicing of solar power systems.
Cable specifications and cable sizing are taken very seriously to ensure the smooth and minimal loss during transmission between the panels and inverters.
The isolators are of high quality materials and are installed with an aluminium or stainless steel protective cover as per Australian Standards.
An After Sales Pack is provided with all relevant documentations including warranties for equipments, maintenance schedules, system layouts and estimated power production.
After the installation TFA Solar offers a full After Sales Service, meaning we help you understand the system, its functions and help with providing annual services to ensure your solar power system performs at its best and stays safe. Click here to find out more.